The Research
Baker's primary source of research has been the Washington Family Papers housed in the Tennessee State Library and Archives in Nashville. In the course of thirty years of research Baker has viewed nearly seventy rolls of microfilm countless times to unravel his ancestry and the other Wessyngton slave families.
He has also used public records such as wills, deeds, census records, marriage records, court records, minute books, slave bills of sales, Freedmen's Bureau records and many others.
As Baker has traced some of the slaves before their arrival at Wessyngton, he has used records from Virginia, Kentucky, North and South Carolina.
Documents
| | |
| --- | --- |
| CLICK TO ENLARGE | |
Wessyngton Slave Birth Register 1795 to 1860.
Baker used hundreds of documents like this one to trace his own ancestry and the hundreds of other slave families on Wessyngton Plantation.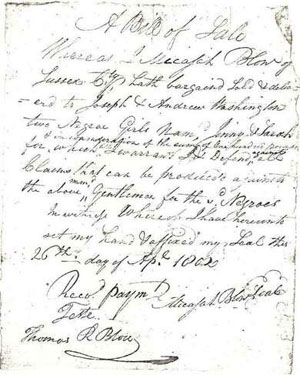 CLICK TO ENLARGE
1802 Slave bill of sale.
Another document found in the Washington Family Papers which aided Baker in his research of Wessyngton slave families.
It lists the name of his great-great-great-grandmother Jenny Blow Washington b. 1792 in Sussex County,Virginia. Jenny's family is the oldest Wessyngton family that can be traced to present day descendants.
Jenny and her sister Sarah were brought to Tennessee from Virginia by Joseph Washington, Wessyngton's founder.