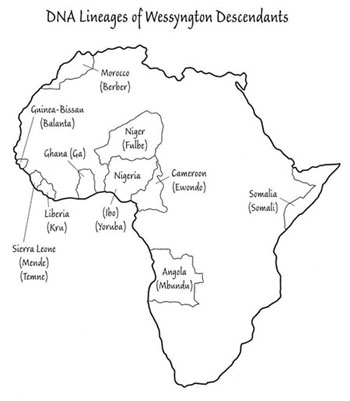 DNA Research
Baker first heard of DNA testing in regard to the controversy between the descendants of President Thomas Jefferson and Sally Hemings in 2001. After learning about the use of DNA to trace African lineages, he decided to use this new technology for the Wessyngton families whose present-day descendants he could trace.
The Wessyngton DNA project included descendants from several branches of Washingtons who came to Wessyngton from the late 1790s through the early 1800s, the Terry family who arrived in 1838, the Gardner family in 1839, the Lewis family in 1843, the Scott, Green, Cheatham, and several other families.
Participants in the Wessyngton DNA project included eleven men and seven women. Many of the families have intermarried through the generations, causing some individuals to have multiple lines originating at Wessyngton. Most of the participants live in Tennessee within a short radius of the Wessyngton plantation; others live as far away as California.
African Americans enslaved on Wessyngton Plantation whose descendants' DNA have been tested:
| | |
| --- | --- |
| Jenny Washington b. 1785 (Yoruba) | Godfrey Washington b. 1791 (Ewondo & Ga) |
| Esther Washington b. 1775 (Temne) | Allen Washington b. 1825 (Ibo) |
| Arry Washington b. 1802 (Somali) | Aaron Gardner b. 1804 (Mbundu) |
| Sarah Cheatham b. 1810 (Mende & Kru) | Dick Terry b. 1818 (Ibo & Yoruba) |
| Fannie Williams b. 1836(Fulbe & Berber) | Dick Scott b. 1818 (Balanta) |